Confined Space Fatality Follow-up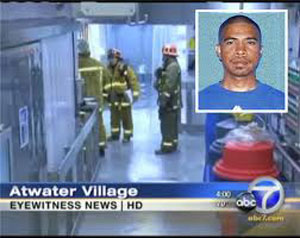 Here's a follow up to a Confined Space Fatality story we published earlier this year. One of the injured persons (a "would be" rescuer and co-worker of the initial victim) remains hospitalized since January. According to a Cal/OSHA Chief, "it is unfortunately common for other employees to be injured or killed while attempting impromptu rescue of the initial victim." In fact, NIOSH states that prior to enactment of the permit-required confined space regulation, 60% of all fatalities in confined space incidents where multiple fatalities occurred were "would-be" rescuers.

This article also addresses the importance of proper planning for confined space operations. These incidents continue to happen all too often when workers aren't properly trained to deal with the hazards of confined spaces and the appropriate actions to take prior to entering a space – especially if a co-worker is already down. Keep in mind, most likely, there's something very wrong in the space! As a rescuer, or a "would be" rescuer/co-worker, don't rush into a confined space. You must protect yourself first!
Cal/OSHA fines prominent pharmaceutical firm $371,000 for safety violations leading to worker fatality
Los Angeles – Cal/OSHA issued eleven citations totaling $371,250 to Baxter Healthcare Corporation dba Baxter Bioscience this week for deliberate and willful workplace safety violations which resulted in the death of one of their technicians and serious injury of two others. The violations included four willful citations, indicating intentional violation or knowledge of a violation. Baxter has 15 business days to appeal or pay the citations. "We will not tolerate employers who intentionally sacrifice the safety of their workers," said DIR Acting Director Christine Baker. "Our goal is to prevent these needless tragedies and ensure employers live up to their responsibility of protecting their workers."

On January 21, Baxter technician Henry Astilla, 33, collapsed when he entered a seven foot deep, 6,000 liter tank in which nitrogen gas was being bubbled through plasma as part of a protein extraction process. Air in the tank had been displaced by the nitrogen gas resulting in an oxygen deficient atmosphere in the tank. Cal/OSHA regulations require employers to have special protective procedures in place prior to the entrance by employees into these types of confined spaces. In this case, the employer had not tested the atmosphere prior to entrance to insure there was sufficient oxygen, which led to Astilla's death.

Cal OSHA's investigation further revealed that when Astilla was discovered, a supervisor ordered two other employees to enter the tank and retrieve him, without testing the atmosphere of the tank or providing proper equipment and other safeguards necessary for a safe rescue. As a result, Astilla died and the two employees sent to retrieve him were seriously injured. One remains hospitalized since January.

"The hazards of working in confined spaces are well documented and this is a classic example of the kind of injury that occurs when employers fail to adequately protect their employees," said Cal/OSHA Chief Ellen Widess. "When confined space operations are not properly planned, it is unfortunately common for other employees to be injured or killed while attempting impromptu rescue of the initial victim."

Cal/OSHA determined that Baxter's confined space program failed to comply with all requirements, including appropriate atmospheric testing, protective equipment as well as rescue equipment and procedures. Baxter Bioscience is a multi-national pharmaceutical company with a Los Angeles plant located in Atwater Village. The facility is the largest of its kind in the nation, utilizing advanced technology to produce plasma proteins.

The citations Cal/OSHA issued this week included one classified as general and ten classified as serious, four of which were classified as willful. Willful classifications are issued when an employer either commits an intentional violation and is aware that it violates a safety law, or when an employer is aware that an unsafe or hazardous condition exists and makes no reasonable effort to eliminate the hazard.