Rescue Toolbox: CMC PMP Swivel Pulley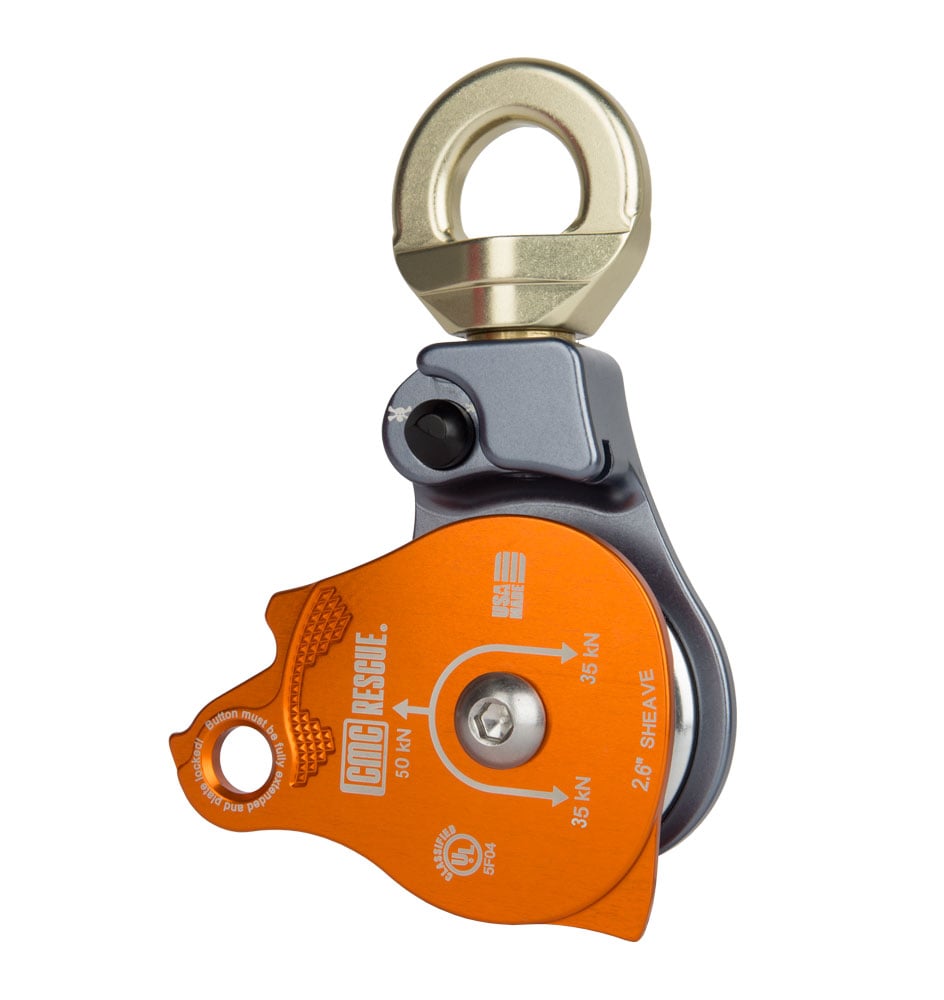 By Pat Furr, Safety Officer & VPP Coordinator for Roco Rescue, Inc.
I have written previous articles on modern equipment and I do have my all-time favorite piece of kit that in my 36 years of bending rope has earned the title of the best piece of equipment in my view. It is my choice for that title because it is versatile, safe, and efficient. Second in line on my list of all-time favorites is the Omni-Block/CMC PMP Swivel Pulley. If you have not used this pulley yet, I suggest you beg, borrow, but don't steal one.
So what's so great about this pulley? For starters, the materials and the bearings of this pulley are gem like. The quality of build and the bearings reduce stiction (static friction) at the sheave axle increasing efficiency, even for such a small tread diameter. But the real advantages of these pulleys are the built in swivel and the swinging side plate. There is a story about the swinging side plate that I may tell you some day. Here is a hint: If you have what you think is a good idea, don't hesitate in exploring that idea further. If you wait, you just may miss a great opportunity.
The built in swivel has several benefits. For situations that call for a swivel built into the system, you can accomplish with a single piece of equipment what would normally require three separate pieces. By having the swivel built in, you eliminate a separate swivel and the carabiner needed to connect it to the pulley. Less weight and less likelihood you have to dig or go searching for a separate swivel and extra carabiner. For directional pulleys the built in swivel aligns the side plates with the direction of pull and eliminates chafing between the rope and side plate which increases efficiency.
Another advantage of the built in swivel is while building or operating Z-Rigs and blocks and tackle (BT). For vertical BTs, the load can stay in any orientation with no fear of putting twists into the lines or creating side plate interference. Additionally, if you are not paying attention while building a Z-Rig and create a twist in the ropes coming from the first change of direction at the anchor to the pulley and then the haul line, it would normally create a lot of friction as the second and third sections of rope cross each other. But with the built in swivel, any twists in those lines will spin clear as soon as you put any tension on the haul line. It's like magic.
The swinging Prusik minding side plate has a double action lock that when operated allows one side plate to open to mount or dismount the rope while the pulley is still attached to the carabiner. This feature alone makes this pulley unique in its function.
For a series of directionals that need to be disassembled as the rescue progresses, this will speed the operation up significantly. But my experience with this pulley - especially for tower rescue- is the reduction in the potential to drop the pulley. In fact my tower rescue set up relies on a one piece mechanical cam, a carabiner and this pulley and they never have to be disconnected from each other! I have seen the incidence of dropped objects practically eliminated during the tower recue classes I teach just because of this one change.

The swinging side plate really shines during the construction of a Z-Rig. It is so simple to mount the cam, carabiner and pulley as a three piece set onto the mainline and then simply mount the rope into the pulley and close it up. Remember, if you managed to build any twists into the 2nd and 3rd lines, they will spin free as soon as you pull the haul line.

In single sheave versions these CMC PMP Swivel pulleys come in three sizes. 1.1", 1.5", and 2.6". The 1.1" is NFPA rated for Technical Use, while the 1.5" and the 2.6" are NFPA rated for General Use. They will all accept up to 13mm rope. The Double Sheave version does not have a Prusik minding feature, but does have a becket. Both side plates have the dual action release button for ease and speed of loading the rope(s).

It is hard to put into words just how efficient these pulleys are until you use them in your rope systems. But I hope I have piqued your interest enough to look into them.