Bridge Rescue from California's Tallest Bridge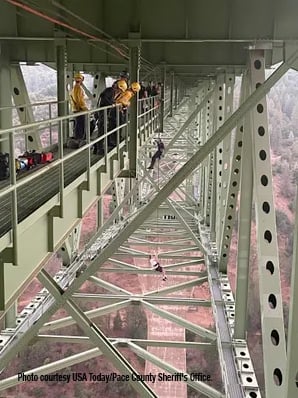 Last week, a teenager dangled from a rope suspended from the 730-foot Auburn Foresthill Bridge, the tallest in California and the fourth tallest in the country.
The 19-year-old man and his 17-year-old friend accessed the catwalk underneath the bridge. According to the sheriff's office, the older teen then used a rope and harness to swing from the bridge while his friend filmed him.
The sheriff's office said his equipment soon failed, leaving him hanging from the underside of the catwalk approximately 30 feet. After deciding he couldn't get back to safety without help, the 17-year-old called 911.
Sheriff's deputies found the thrill-seeker dangling from a rope around 6:30 p.m. on Sunday, September 17, 2023. First responders from other agencies, including the sheriff's mountain search and rescue team, also arrived.
First responders were only able to rescue the teen by sending a rescuer rappelling down on a rope of their own to bring him back up to the catwalk, the sheriff's office said in a post on Facebook.
The 19-year-old refused medical attention after being evaluated on scene by medics, the sheriff's office said. Both teenagers were cited for trespassing.
Click HERE to read full story.

(Story by Eric Lagatta, USA TODAY)