5 Tips for Working Safely at Heights
This week, May 2-6, is OSHA's National Safety Stand-Down to Prevent Falls in Construction. The reason for this emphasis is the continuing injuries and deaths resulting from workplace falls – especially in construction work. Fall protection was the #1 cited standard by Federal OSHA in 2021, and falls continue to make OSHA's "Fatal Four" list year after year.
The statistics don't lie. In 2019, there were 1,102 fatal injuries in the construction industry; according to the US Bureau of Labor Statistics, nearly 38 percent of these fatalities were fall-related. In 2020, employers spent over 16.5 billion dollars combined indirect costs as a result of falls according to Liberty Mutual's Workplace Safety Index for the construction industry.
In doing our part for National Safety Stand-Down to Prevent Falls, we've created a list of Top 5 safety tips to consider before starting work.
1) Implement the Hierarchy of Fall Controls
The most effective method to protect workers against falls is to eliminate the hazards! All too often we see employers and workers simply accepting a hazard without fully attempting to eliminate it first. Admittedly, elimination is not always possible or feasible. In this case, we should make every attempt to use passive fall protection — such as physical barriers, guardrails, or hole covers to prevent falls. Even this may not always be a practical application in the real world. If we are unable to implement these two methods of control, then (and only then) should it be acceptable to move on to personal protective equipment (PPE) and active measures of control.
2)

Develop Effective Training
If there are remaining hazards in the workplace, you must provide workers with the knowledge and skills to be aware of the hazard and their potential effects. Workers should be able to identify when they are at risk for falls and take appropriate and effective measures to protect themselves. Be sure to incorporate hands-on skills into your training with knowledge and competency assessments before allowing workers to work at height. There is no replacement for direct, hands-on learning for this type of skill set. Some examples of this may include appropriate set-up of ladders, harness inspection, maintaining 100% tie-off, and lifeline anchor selection.
3)

Provide Proper Personal Protective Equipment (PPE)
As mentioned previously, elimination and passive fall protection should always be our primary and secondary goals for reducing fall-related incidents. When we are unable to implement these methods, we must then rely on PPE to protect workers from the remaining hazard. Ensure that your workers ready have access to adequate PPE for the job; remember, PPE is not a "one size fits all" application. Consider providing different styles of PPE so that workers can choose what is most comfortable or convenient for them. Workers are a lot more likely to use PPE that they like and are comfortable using. Also, ensure that workers know how to inspect their PPE and how to wear, use, maintain, and store it appropriately.
4)

Select Appropriate Anchor Points
Fall protection equipment is only as good as the anchor point that it's tied off to. The ideal anchor point will be located directly above the worker. The further away a worker is from the anchor, the greater potential a worker has to swing into objects during a fall. Additionally, anchor points must be able to withstand at least a 5,000 lb. load per worker. On occasion, workers can be found tying off to electrical conduit, small diameter pipes, or other unacceptable anchor points. Ensure that your workers know and understand how to select appropriate anchor points. As a best practice, consider discussing what anchor points will be used for the job prior to starting work.
5)

Accurately Calculate Fall Distances
What good is fall protection if you hit the lower level before it engages? Accurately calculating fall distances can be the difference between life and serious injury or death. The formula used for calculating this is as follows:
Required Distance = Lanyard Length + Deceleration Distance + Height of Worker + Safety Factor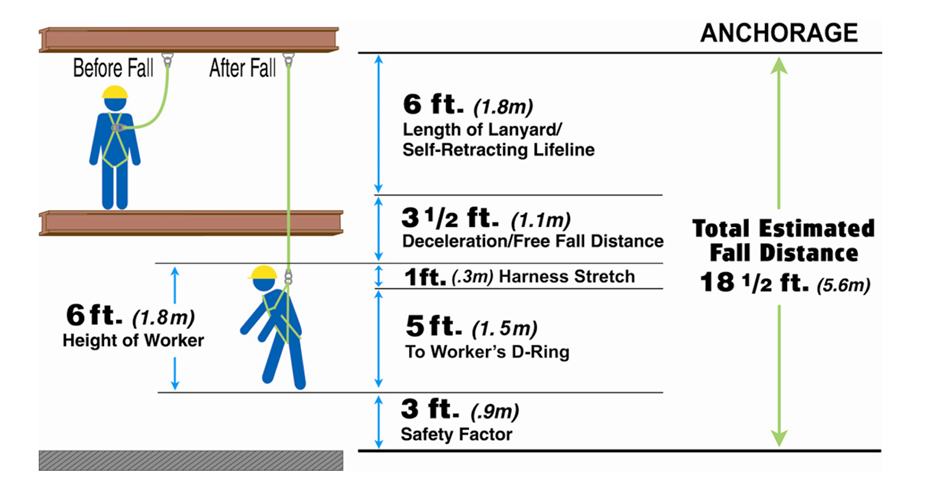 Lanyard Length is exactly that, the length of the lanyard being used. Most lanyards are around 6-ft. in length; be sure to reference the manufacturer's specifications to determine the exact length of the lanyard.
Deceleration Distance refers to the distance from when the worker falls, to when the fall arrest device activates, and to the final stopping point. Most shock-absorbing lanyards deploy to about 3.5-ft. in length when engaged. Remember that any slack between the anchor point and the worker's dorsal ring must be added to this distance. For instance, if a worker has a 6-ft. lanyard and connects it 3-ft. above their dorsal ring, that will create an additional 3-ft. fall before the system activates. Additionally, a full-body harness will likely stretch an additional foot during a fall – be sure to include these additional distances in your calculations.
Height of Worker is also self-explanatory, the height of the average worker is about 6-ft.
Safety Factor is an additional amount of space added into the calculation to serve as a buffer. The generally accepted safety factor is 3-ft.
Chris

McGlynn is the Director of Safety/VPP Coordinator for Roco Rescue. He is a Certified Safety Professional (CSP) through the Board of Certified Safety Professionals as well as a Certified Confined Space and Rope Rescue Technician, and a Nationally Registered Paramedic. As Director of Safety, Chris oversees all corporate safety initiatives, ensuring that employees at Roco have the tools and training that they need to do their work safely and effectively. He is also responsible for managing Roco's Safety Services Division, which provides trained safety professionals for turnarounds and other special projects. Finally, Chris serves as the VPP Coordinator for Roco, continuing Roco's long-standing commitment to excellence in safety and health. Roco has been an OSHA VPP Star Worksite since 2013.
Additional Resources