Input Deadline for NFPA 350 Fast Approaching!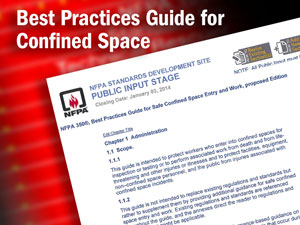 Deadline: January 3, 2014. There's only about 30 days left to submit your input on the proposed NFPA 350 Best Practices Guide for Safe Confined Space Entry and Work. If you are involved in any kind of confined space work or rescue (municipal or industrial), now is the time to offer your comments. While it is currently listed as a "Best Practices Guide," that does not mean that at some point in the future it won't possibly become an NFPA Standard. So, whether you agree or disagree, the time to offer your input is NOW!
Public comment will be accepted online until January 3, 2014. Go to www.nfpa.org/350. In order to comment you must log in with your email and password - or you can quickly create an account.
Click here to download the PDF version. (Note: Download may take up to 3 minutes depending on your computer.)