Tim Robson, Chief Instructor/NM Site Manager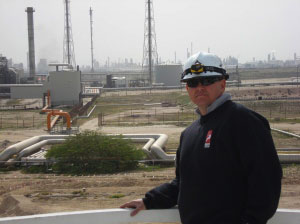 Tim Robson joined Roco full-time in 1996 after working as a professional firefighter and a member of the Heavy Rescue Team for the Albuquerque Fire Department. As a Chief Instructor for Roco, Tim teaches a variety of emergency response courses and has been instrumental in the development of our Trench & Structural Collapse Rescue programs. In addition to teaching, Tim leads our on-site rescue and safety services at Intel where he specializes in multi-tasking, from rescue stand-bys to confined space program management to leading safety meetings and the list goes on. Tim is also responsible for coordinating other Roco Stand-by jobs in this region.

Tim hails from Mandeville, Jamaica where the tropical heat prepped him for his current climate in New Mexico where he lives today. Tim spent 6 years with the United States Marine Corp, where he specialized as a Rescue Diver/ Rescue Swimmer. After his time in the military, he joined the Albuquerque Fire Department and served as a Rescue Squad Officer for FEMA's New Mexico Task Force 1. Tim has participated in four deployments for FEMA, including the Pentagon following the Sept. 11th attacks. While at the Pentagon, Tim led a Rescue Squad whose charter included victim recovery, debris removal, and the shoring of the remaining, unstable structure. It was on this mission that Tim developed a new shoring system that was later adopted by trench and shoring pros within the organization (FEMA).

His inspiration for becoming a rescue professional?
It all started with his time in the good ol' USMC. What kept him interested was the diversity – he trained as a Plane Captain, Power-plants Mechanic, and Combat Water Survival Specialist Instructor. Teaching others became an essential part of his skill set. During his service he was deployed to Egypt, Japan, Korea, the Philippines, the Mediterranean, Operation Desert Shield and Desert Storm. And he still liked being an instructor!

His best advice for the novice?
"Fast is slow, smooth is fast. No emergency is worth you not going home!"

What does he do for fun?
Tim says he likes to run, bike and play golf to unwind and release a little stress. He also enjoys time with his family.