Are You Sure You Don't Need On-Air Rescue Practice?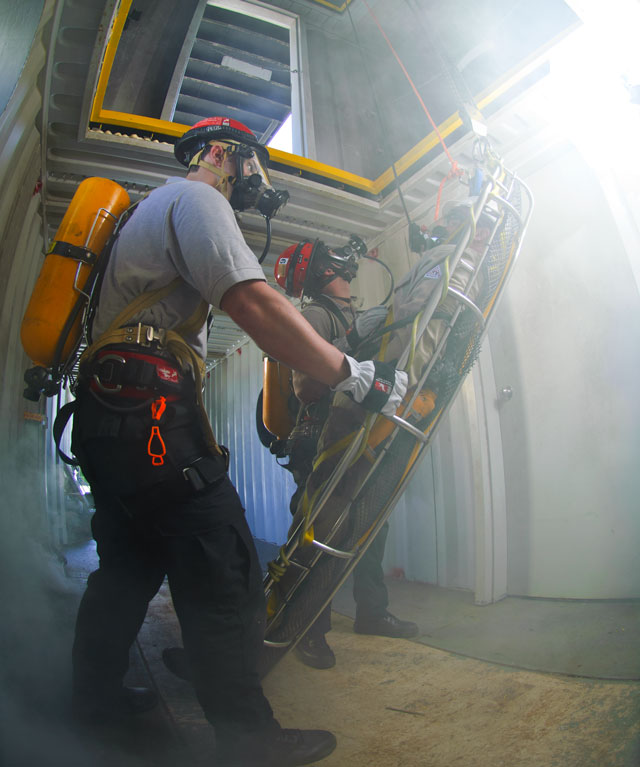 Reported by Dennis O'Connell, Director of Training

After more than 25 years in the rescue industry, I always cringe a bit when I hear rescue teams say they don't practice "on-air" rescues because personnel at their facilities are not allowed to do planned work activities in IDLH or low O2 areas. But I always ask, what about the permit spaces that may have the "potential" for atmospheric hazards? What about those spaces that may unexpectedly become IDLH or low O2 – what then?

"I have raised this flag many times before and according to NIOSH, a little less than half the deaths from atmospheric conditions occurred in spaces that originally tested as being acceptable for entry. Something happened unexpectedly, and something went very wrong."
Remember, OSHA states that a confined space simply has to have the "potential" for a hazardous atmosphere; not that it is actually present as one of the triggers to make a space a "permit required space" and require rescue capabilities.
So, for these unexpected instances, do you really have the appropriate rescue response in place? In our opinion, not training your team to respond to IDLH emergencies is like buying a gun for home protection, but not buying any bullets.
Also, 1910.146 section (k)(1)(i) makes reference to 1910.134 OSHA's respiratory regulation. Here OSHA talks about respiratory protection being worn by entrants as the trigger for "standby" rescue personnel capable of immediate action. It is not necessarily based on the level of O2. It calls for "rescue standby" not rescue "available." Immediate action is called for… not just a timely response
OSHA Note to Paragraph (k)(1)(i)…
What will be considered timely will vary according to the specific hazards involved in each entry. For example, §1910.134, Respiratory Protection, requires that employers provide a standby person or persons capable of immediate action to rescue employee(s) wearing respiratory protection while in work areas defined as IDLH atmospheres.
If that's not a hint as to how seriously OSHA takes the possibility of an IDLH atmosphere arising in a permit space, I don't know what would be.
So, if you don't think you'll ever need on-air rescue capabilities, take a look at this incident from a few years back. The way this confined space fatality occurred and the possibility of it happening is a real eye opener. It emphasizes the critical importance for considering all possible (or potential) hazards associated with confined space entry and rescue.
Folks what I'm trying to say here is, as rescuers, we need to be prepared for the worst case scenario as well as the unexpected! This is especially true when it comes to confined spaces. When I hear, "We don't need on-air practice because we don't allow IDLH entries at our facility." Well, neither did these guys...
Fatal Activation of CO2 Fire Protection System in Confined Space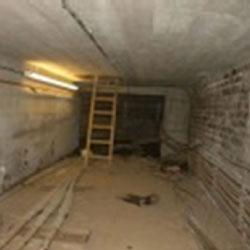 Sheffield Forgemasters was ordered to pay heavy fines and costs for safety failings that led to an employee dying of carbon dioxide poisoning after the cellar he was working in filled with the deadly gas. A worker was found unconscious at the South Yorkshire foundry after a confined underground area swiftly flooded with the fire-extinguishing mist. Four of his co-workers desperately tried to reach him but were themselves almost overcome by the fast-acting gas. The worker, who had three grown-up sons, was pronounced dead on arrival at the hospital after the incident at the firm's plant on 30 May 2008.
The Health and Safety Executive (HSE) investigated and prosecuted the company for serious safety failings. On December 19th 2013 Sheffield Crown Court heard that on the morning of the incident, the worker had carried out part of the cable cutting task in an electrical drawpit and then went to carry out the rest of the job in the switchroom cellar, which was only accessible by lifting a manhole cover and dropping down a ladder. Once underground at the electrical drawpit, the worker used a petrol-driven saw to cut through redundant 33,000 volt cables. At some point, he moved from there to the nearby switchroom cellar with the saw.
Later that morning, colleagues heard the carbon dioxide (CO2) warning alarms sounding from the cellar. A supervisor and other workmates rushed to help, with several of them trying to get down the ladder from the manhole to rescue the worker from the cellar's confines. However, all attempts were defeated as each worker struggled to breathe and remain conscious when exposed to the debilitating concentrated carbon dioxide. The victim had to be brought to the surface later using slings.
HSE found that use of the petrol-driven saw in the switchroom cellar had likely activated a smoke sensor and prompted the release of the carbon dioxide from the fire extinguishing system.
The court was told Sheffield Forgemasters had failed to provide any rescue equipment for either the cellar or the drawpit. Other issues identified included a lack of a risk assessment by the firm for the cable cutting task and failing to provide a safe system of work in either underground location. In addition, there was no secure way to isolate the carbon dioxide fire system while work was going on in the cellar.
After the hearing, a HSE Inspector said: "This was a very upsetting incident that resulted in the needless death of this employee. It could have been an even worse tragedy as it was pure chance that another four workers who entered the cellar in a desperate bid to save their colleague did not also perish."
"Exposure to between 10-15% of CO2 for more than a minute causes drowsiness and unconsciousness. Exposure to 17-30% is fatal in less than one minute. Carbon dioxide is poisonous even if there is an otherwise sufficient supply of oxygen.
"The risks associated with confined spaces are well known in industry and there is an entire set of regulations dealing with controlling the risks associated with them. Multiple fatalities do occur when one person gets into difficulty in such a space and then the rescuers are similarly overcome."
"Sheffield Forgemasters had given no thought to the risks associated with the task being undertaken, nor had they provided emergency rescue equipment. This case shows how important it is for companies to effectively risk assess work activities; looking at how the work will be carried out and in what circumstances."